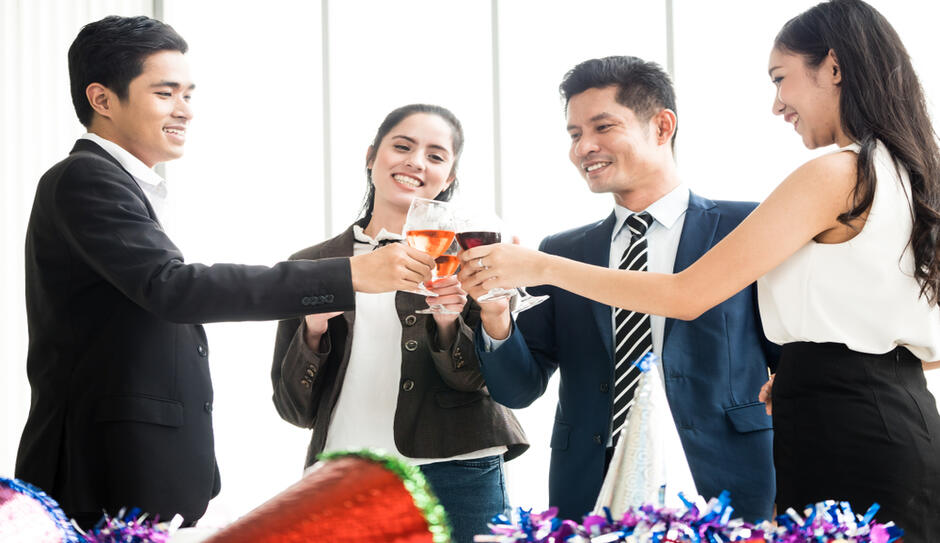 Here we are once again and it tis the season to be jolly! It's time to step away from your laptop screen, park that smart phone in your pocket and get out and "ho, ho, ho" with friends new and old!
Whether you are attending a business holiday event or a more personal party, these ten rules of holiday party etiquette will serve you well this season:
Park Your "Me, Me, Me" at the Door
The last person anyone wants to meet at any holiday party is the person obsessed with themselves. You have met them many times before - "let me tell you about me … and then there is more about me." Don't be that person! Be the person who focuses their energy on the people you are meeting, not yourself.
Dress to Impress
Unless you are attending a costume party, there is no need to dress as Mr. or Mrs. Claus or any of their elves. You will want to look your best, but also just casual enough to fit in without the tuxedo and bow tie. Here is your opportunity to impress by dressing like you were already promoted to the next level.

Warm Up Your Covid Handshake
If your style is to reach out and squeeze the life out of every person you meet … stop that now. Many people just aren't comfortable shaking hands in this phase of Covid, so avoid the awkward moment of them pulling their hand away from yours. Instead, find a warm and gentle way to touch a forearm or an elbow to make that physical connection.

Smoothly Transition from Your Introduction
After you have shared your name and perhaps a tidbit about who invited you to the party, lean in to your new friend and ask their name and then genuinely ask something about them. You are not there to take their deposition, so just break the ice with something soft to get them talking without feeling pressured to tell their life story. 

Turn Up the Volume on Your Listening Aids
Are you listening? No, are you really listening? Because if you are, now is your opportunity to really make an impression in your relationship. Gently and genuinely probe for more insight into what they shared. If you can slowly and softly get them to share how they feel about a topic they introduced, you can take your potential relationship to the next level in a matter of minutes.

 

Be Insatiably Curious
How many ways can you show people you meet at a holiday event that you care about what interests them? You can ask questions. You can paraphrase and play back what you heard. You can ask them to tell you more and what exactly means the most to them about the topic. You can let your body language reveal your interest. But you can't successfully do any of that is you aren't genuinely interested in the person and what's important to them. So, be real and don't fake it!

Actively Introduce People You Meet
After you have met a few people at your holiday party, it is time to circle back and introduce someone you met to another person you met. Make sure you are confident that your two new friends will "hit it off" and be sure to tell each person what you enjoyed about meeting the other person. You'll impress them both, then you can move on to meet someone new.

Find Your Pace and Keep Moving

It's easy to find your comfort zone holding up a wall or table and sticking with a group of people you have come to like. Don't take the easy road. You don't want to run off like you are speed dating, but it is important to keep moving and work the room to have as many quality conversations as possible.

 

Find a Way to Make a Difference
If you have listened carefully to the new friends you met at your holiday party, someone will reveal to you something they need. It could be an introduction to someone else or a specific service they are looking for to grow their business. Although you don't need to fulfill their request at the party, you could let them know that you have a solution to their problem or know someone that you will introduce to them. After the event, make sure you follow-up promptly and deliver on your promise. 

Dump Your Business Cards and Go Digital
There is one thing that no one wants to get at a holiday party. An illness? A hangover? A "me, me, me" networker? It's true, no one wants to take home those things from the holiday party. But what they want even less is to take home a stack of business cards that they have to organize and enter into their contact management system and send follow-up emails. That doesn't make for a very jolly time!

With an mTap digital business card, you can not only instantly transfer your most vital contact information and digital assets to your colleagues at the party, but you can instantly capture their contact information as well. In addition, you can automatically send those follow-up messages to take your post-party relationship to the next level.
Follow these ten rules of holiday party etiquette and you will not only have a great time but also make great connections along the way.