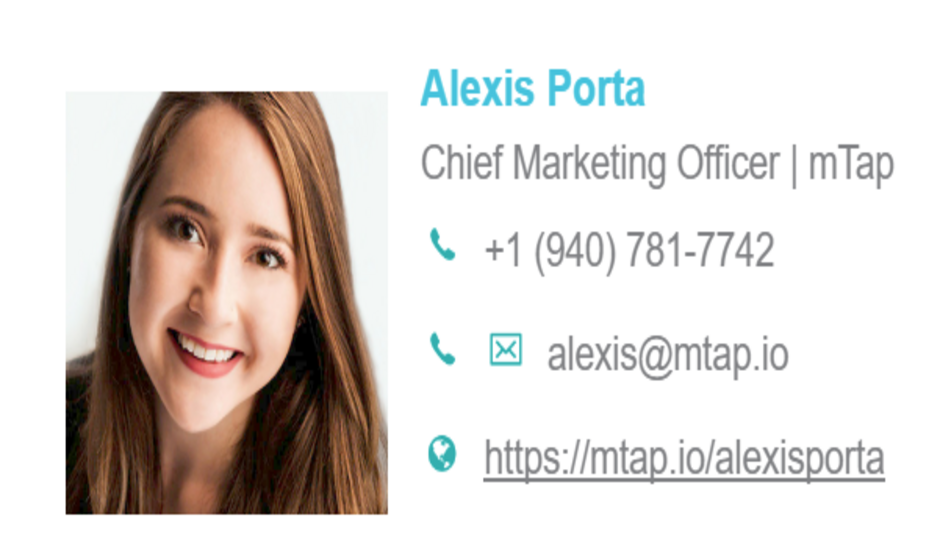 One of the most impactful ways to make an impression on colleagues, prospects and clients is with a professional email signature. Although it is fairly easy in email applications such as Gmail and Outlook to create an email signature, it is often difficult to create a truly professional email signature that makes you stand out from the crowd.
What's the difference between any old email signature and one that stands out as a professional email signature? 
All email signatures (should) include your first and last name, company name, phone number and email address as well as a link to your website.
In contrast, a professional email signature includes all of those elements, but is enhanced by more interactive elements, such as icons, logos, photos, and other links to promote your business.
Unfortunately, it can be challenging to insert all of those elements in your email application and be confident the formatting holds for your email recipients. In some cases, your professional email signature can become very unprofessional when it reaches your recipient's inbox.
Leveraging Digital Solutions for Your Professional Email Signature
A great way to solve the formatting problem is to leverage a digital solution for your professional email signature. 
With a digital solution, you can create a professional email signature that presents you as the professional you are. 
You decide the fonts you want to use and use bold and italics for your name and title. You can add a headshot image and be sure your smiling face is presented in the right position and size every time.
You define your brand colors and the digital solution positions icons for each of your key data elements such as email address, phone number, website address, and more.
You add your logo and link to your website or add other links to high-impact marketing assets.
Best of all, when anything changes, you simply update your digital profile, then copy and paste your professional email signature into your email application.
How mTap's Digital Email Signature Powers Your Brand
With mTap, you can create a professional email signature in minutes. The mTap digital profile below was created in less than a minute.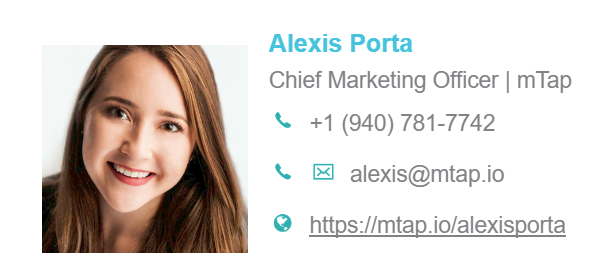 After it was created, the email signature was copied and pasted into the email application in less than a minute. 
In just two minutes, you can have a professional email signature too. Best of all, you can update your mTap digital email signature anytime, then simply copy and paste it again into your email application.
What are the Benefits of a Professional Email Signature?
You can realize many benefits using a professional email signature.
Brand Consistency: It is important to keep every team member's professional email signature consistent to for the integrity of your brand. Every team member should use the same format for their email signature, complete with your company's brand colors, logo and links. mTap Teams enables you to control your brand for all team members, while allowing them to add their own unique links, such as to their calendar.
Link to Marketing Assets: With an mTap Digital Profile linked in your professional email signature, you can seamlessly link to a plethora of vital marketing assets, such as your social media platforms, videos, product information and much, much more!
Measure Your Impact: mTap's Digital Business Card Platform enables you to track the impact of your professional email signature by providing analytics on your mTap Digital Profile activity. You can also track your contacts and leads and engage your prospects and customers more effectively.

Get Your Professional Email Signature Now!
You are just a click away from getting started on creating your professional email signature:
If you work alone, register now for your mTap Digital profile, absolutely free for life. You will start resting unforgettable networking experiences and make great impressions with your professional email signature.
If you are on a business team, check out mTap Teams today. It is the digital business card platform for teams to engage prospects more effectively.
Don't hesitate to contact us today if you have questions about mTap or Mtap Teams and be sure to explore our Knowledge Base to learn more too!