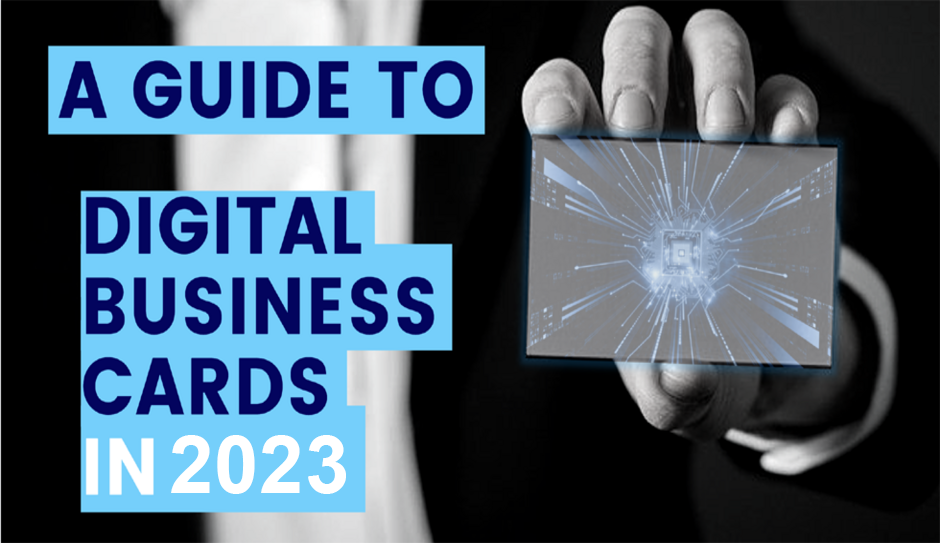 The digital business card is a newer form of digital marketing that has taken off in the last few years. These futuristic devices allow your business's information to be accessed by others using NFC technology stored on mobile devices. Digital business cards are an excellent way to get your name and contact information out there while showing people what you do for work. With an NFC-enabled digital business card, you can present your company and contact information memorably.
What is a digital business card?
Business cards have long been a sign of professionalism and convenience while networking. A digital business card is a virtual alternative to the traditional paper business card. Instead of printing out a card, you can save digital business cards to your smartphone with NFC.
What is NFC?
NFC stands for Near Field Communication, and it is the technology that makes the best digital business cards possible. Today, most smartphones allow you to download information from another person's digital business card by simply tapping their card with your phone. You can then instantly save their phone number, social media, or any other details they shared with you.
How does a digital business card work?
Contact-free
An NFC-capable digital business card eliminates any need for contact when exchanging information. It all happens with a tap.
Cost-Effective
A virtual business card is an excellent option for small businesses without the funds for expensive printing jobs. You no longer have to waste money on printed cards that easily get dropped or lost. All you need is a single digital business card to do all your networking. mTap offers digital business card devices that you can hide behind your phone case or proudly display on any surface or keychain. You can even personalize your mTap with your own logo.
Simple
NFC digital business cards are so convenient that many people no longer carry physical business cards. A virtual business card is handy when you meet someone at a trade show or conference and want to stay in touch with them but don't have anything on hand. Simply have them tap your digital business card with their phone, and they will instantly have your information. 
Accurate
Sharing information with a virtual business card removes any risk of someone inaccurately writing down your information. There is no room for error when making essential connections in a competitive field. Hence, it would be best if you had the security of knowing your data will be correct when a prospect tries to reach you.
Fast
Nobody wants to end a conversation with someone fumbling around to type in all of their contact information. Manually sharing information not only leads to inaccuracies, but it wastes time. Make more time for real in-person connections using NFC business cards to share digital information instantly.
How can I make and share a digital business card?
Order
Choose the suitable device for you based on your profession and what might be most convenient for you to use in a casual conversation. Some people choose a sticker to put on the back of their phone, so they can tap their phone to someone else's when sharing information. Others take the more traditional route by choosing a business card that they can carry in their wallet and pull out when the time is right. There are also key fobs and even wearable NFC-enabled devices that share your information with just a tap.
Link
Once you have chosen the perfect device, you are ready to set up your magic link, which will be the hub where you control what you send using your NFC business card, keychain, or sticker. Customize your magic link with your profile picture or logo, then add your basic contact information and social media profiles. Personalize your profile by adding links to your professional profiles, websites, or exclusive content. For example, you could add a link to your video resume for potential employers to reference.
Tap
After set up, you can walk into any social setting with confidence, knowing you will impress your prospects. The next time someone asks how they can get ahold of you, ask them to tap their iPhone or Android to your mTap device or digital business card.
How to make insanely awesome digital business cards for yourself
Official Contact
Digital business cards are superior because they present so much more than a simple contact card. While they allow you to accurately and efficiently share your contact card, you can also make a good impression by sharing your official profiles. With mTap's magic link, you can link to your LinkedIn, WhatsApp, resume, portfolio, and more.
Social Media
You already showcase the best work on your socials. Now you can show it off without the friction of making sure someone spells your username correctly. The secret to growing your following on social media is gaining followers who feel like they know you. So sharing your socials with people you meet every day is a fantastic idea for building an engaging following. Be sure to link to your Twitter, Instagram, Facebook, Snapchat, and TikTok in your magic link.
Schedule an Appointment
Calendly, Zoom, Calendar, Setmore, Simply Book, and Google Calendar are digital tools that allow people to book appointments with you. Digital scheduling is a must for anyone who has clients, patients, students, etc. It's essential to have an easily accessible calendar of your availability so the other party doesn't end up wasting time on back and forth emails trying to find available slots in your schedule. Virtual business cards make sharing your calendar easy by quickly pulling up your openings on a prospect's phone for them to schedule a convenient time.
Make a Payment
Venmo and Cashapp are what most of us have grown accustomed to using when we need to pay a friend back for spotting us when the group orders takeout. But in the professional world, your client might give you a funny look if you ask them to pay using one of these apps. Maybe you use PayPal, but most people prefer to pay professional businesses using their credit cards. mTap makes it easy for you to get paid however works best for you. Add your link to whichever service you choose, and your clients will know exactly where to send your earnings.
Leave a Review
Growing your online reputation is a crucial part of digital business. Nowadays, people are more likely to trust digital reviews over personal recommendations – so having positive digital reviews is critical! Using mTap to share your digital review service makes it easy for your clients and customers to provide you with the feedback you deserve on Yelp, Google Review, and Angie's List.
Content and Messaging
If you have ever considered growing your brand through exclusive content, your first question might be how to gain subscribers. Your monetized content is just as important as your contact information. When you share your digital business card, you will want to include your best content and messaging. mTap lets you showcase your Youtube, Twitch, Discord, Podcasts, OnlyFans, and Patreon profiles in your magic link. Now, you can make sure the right people see your best content.
Brand Website
Digital Business cards can bring people to your brand website. By using mTap's advanced NFC technology, you can impress prospects by allowing them to discover your virtual brand instantly. Control who falls into your funnel by linking to your landing page or blog post in your magic link.
Digital Storefront
When your business's storefront is online, you might forget you could be making sales in the real world with people you meet every day. By linking your digital storefront to your digital business card, you can take the perfect moment to direct potential customers to where they can buy your product. Link your Squarespace store, Fiverr, Etsy, or Facebook Marketplace listing in your magic link and instantly share using mTap.
Online Portfolio
Building your online portfolio took a lot of time and it does an excellent job of displaying your expertise, but how many people see it? Are you sure if the right people are finding it? When you share your online portfolio using a digital business card, you know that person will see everything exactly how you curated it. Whether you use Adobe Portfolio, Vimeo, or your website, you can link it in your magic link and share instantly using mTap.
Will a digital business card help grow my business?
A digital business card is a great way to get the word out about your brand and who you are. People forget what they hear, but more importantly, people forget what they see. When a person receives your digital business card, using mTap, on their mobile device, it will be there to reference when they need it. Not only do you have to worry about giving out the wrong number. mTap is the answer to no more wasted paper cards and no more misspelled usernames or emails. 
Do You Struggle with ...
Getting No Response from Your Business Cards?
Limited Views of Your Website Landing Pages?
Inability to Get Views of Your Best Videos?
No Engagement On Social Media?
Failing to Get Timely Positive Reviews?
Prospects Losing Your Contact Information?